Brides, grooms and all snail mail lovers – attention! As per August 29, 2021, the USPS postage rate has increased – again! This means you need to be extra careful with how much postage you put on your priceless invitations – otherwise you run the risk of them being returned to you! Before you grab your calculators and start panicking, read this article. Afterwards,  you will be all up to date and ready to send your next piece of mail. While this article mostly addresses issues with the mailing of wedding invitations, you can use this article for any letter.
Which postage rates changed?
In a word: most of them. A 1oz Forever stamp has gone up 3ct – from $0.55 to $0.58. Every extra ounce after that is an extra $0.20 – which has stayed the same from beginning 2021. The biggest change, in my opinion, is the change in the non-machinable surcharge, going up from $0.20 to $0.30. This is the extra fee you pay for square envelopes, rigid envelopes (that cannot bend) and envelopes that have an uneven thickness. This can be caused by wax seals (my favorite!), clasps or buttons, or bows. In other words – all the fun accessories we add to invitations!
Below I have created a small overview of relevant rates before August 29th and after:
Forever 1oz Stamp (First Class Mail)
Forever 2oz Stamp
Additional ounce
Non-machinable surcharge
Postcard
International (1oz)
$0.55
$0.75
$0.20
$0.20
$0.36
$1.20
$0.58
$0.78
$0.20
$0.30
$0.40
$1.30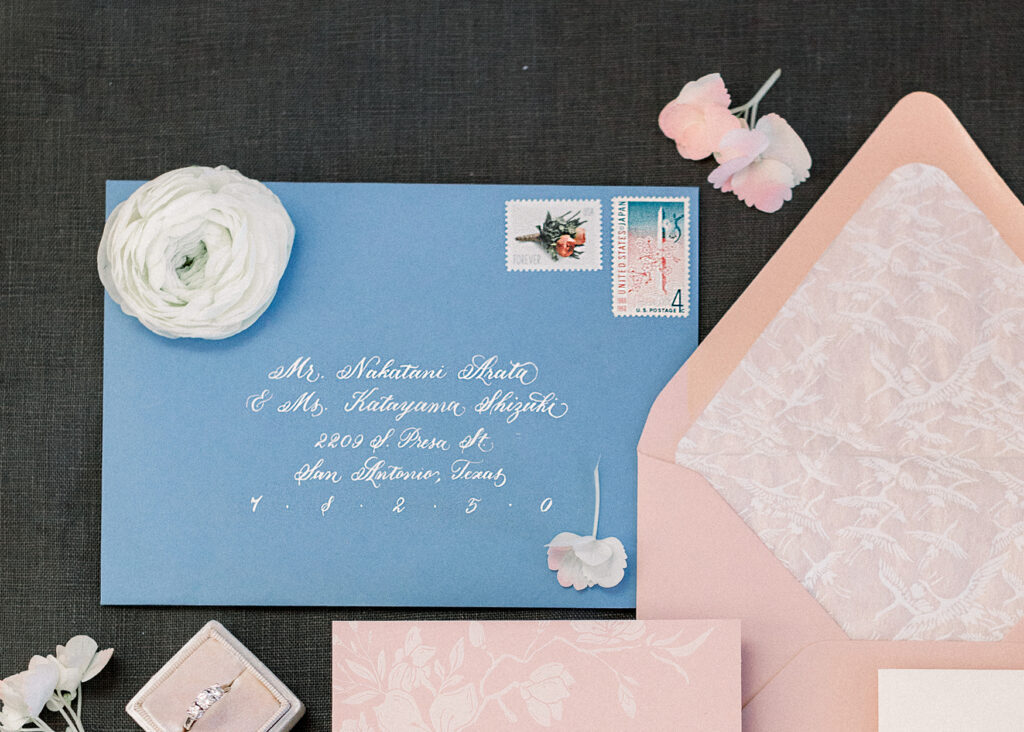 How to know how much postage you need?
If you are anything like me before I started my invitation and calligraphy business, the rates above don't mean much to you. I will be the first to put up my hand and tell you – sometimes the postage rates don't make any sense! Not to mention – all post offices are different. You can take a piece of mail to three different branches and each give you three different answers! This makes it hard to figure out how much postage you actually need to put on your wedding invitations (or letter). While this is not fully fool-proof, the questions below will help you figure out how much postage you need.
Knowing how much your piece of mail weighs is the first step to figuring out how much postage you need. Postage rates are up to a specific weight – so anything under 1 ounce falls under the Forever 1oz rate. Anything between 1oz and under 2oz falls under the Forever 2oz rate. You get the point.
Most wedding invitations are 5″x7″ in dimensions. This means that the envelope around it is 5.25″x7.25″. To be eligible for first class mail, your envelope has to be between the measurements of 3.5″x5″ and 6.125″x11.5″. It also cannot be thicker than 1/4″. Anything thicker than 1/4″ rates like a package with costs starting around $3. Square envelopes (a popular measurement is 6.5″ square) automatically are non-machinable and get the above surcharge.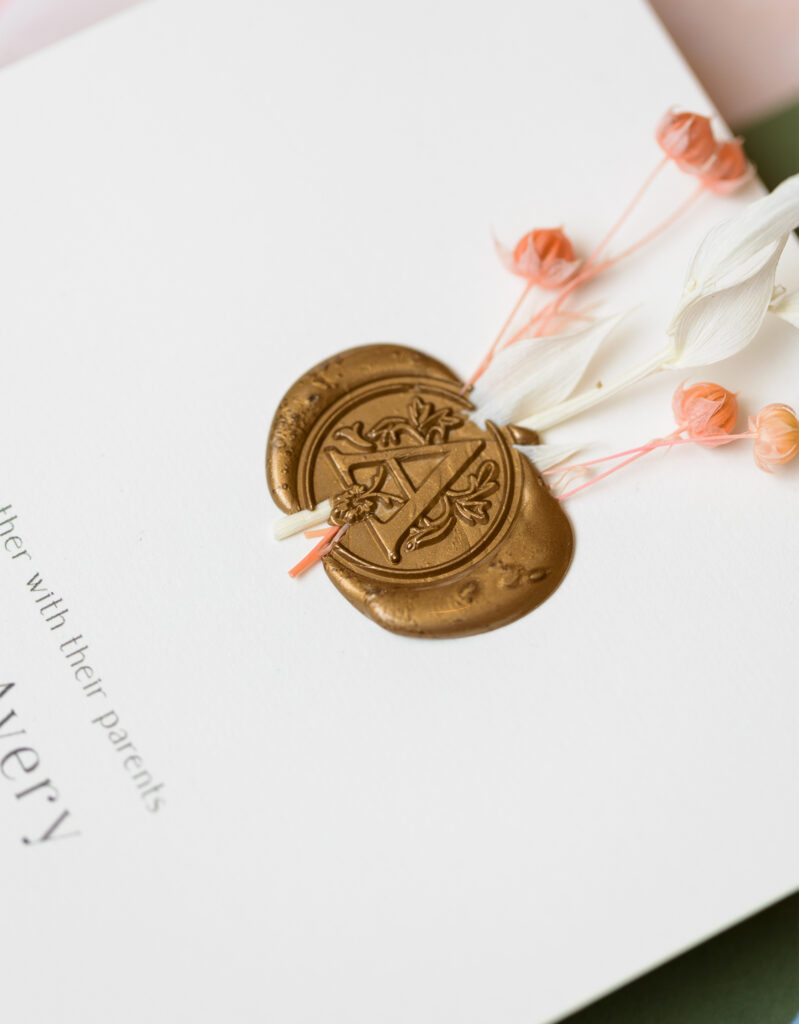 The second thing to keep in mind: is there is anything that prevents your envelope from being completely flat? Do you have a wax seal (either on the inside or outside), or maybe a ribbon that is tied around the invitation? All of these result in a one-way ticket to non-machinable town.
Your piece of mail also has to be able to bend – it cannot be completely rigid. If you have an acrylic invitation for example, you will need to add a non-machinable charge for this. 
Check with a post office (or two!)
Now that you have a good idea of what your rate is most likely going to be, it is time to take your invitation to the post office to double check! USPS workers can check your invitation for you. They can make an informed recommendation on how much postage you should put on the envelope. Like I mentioned before though – USPS is notorious for giving different advice in different branches, and they are definitely not consistent across the board! So if you want to make sure you are putting the right amount on them – the best thing you can do is take it to 2 or 3 different post offices and compare rates. Do they all agree with your calculations? Perfect! You are 99% sure that it is the right rate.
If they give you different rates, politely ask them to explain their reason for the rate, and how you got to yours. This usually will inform you on something you might not have thought of, or where you went wrong in your calculations. When actually mailing out your invitations, go back to the branch that gave you the rate you ended up trusting the most.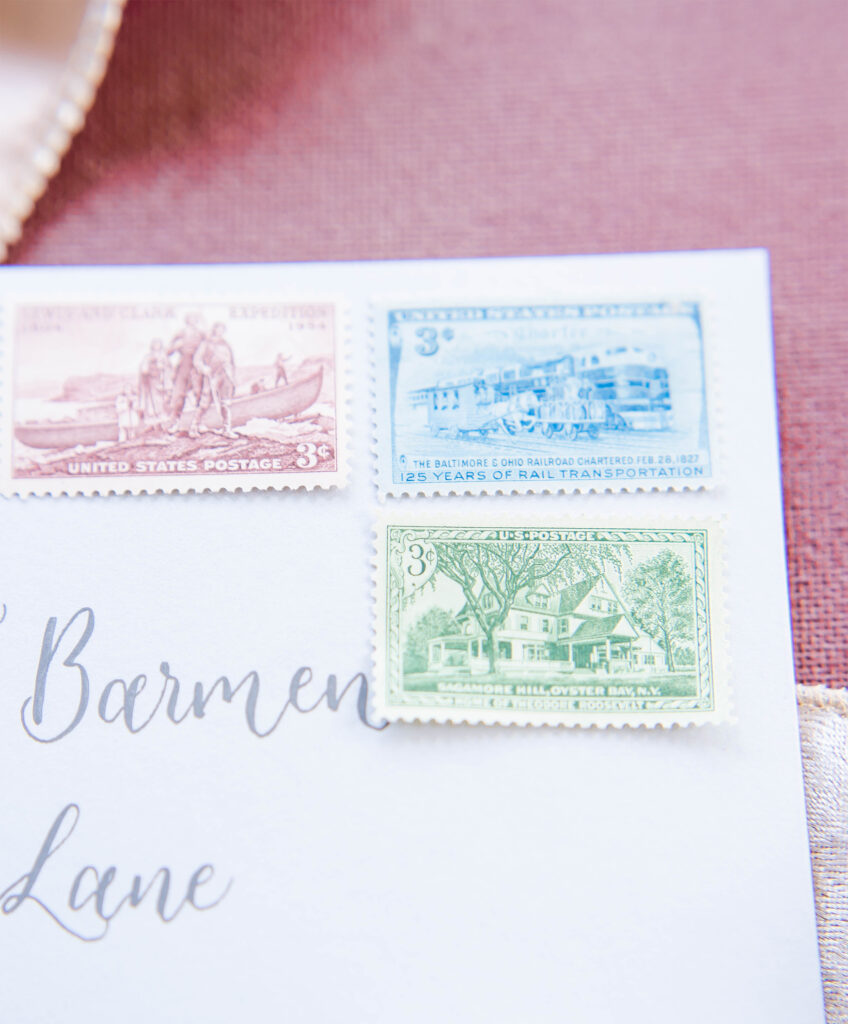 Vintage Postage vs Forever Stamps
Believe it or not – postage stamps are valid indefinitely! This means you can use stamps from 1950, and they still are a valid way to mail your letter or wedding invitations! Vintage stamps usually have a monetary value printed on them, letting you know what they are worth. More recent issued stamps are usually marked with a "Forever USA" – meaning that their value is tied to the rate at which they are sold for at any point in time. You can use as many stamps as you like on your piece of mail. As long as the stamps add up to the correct postage amount, they can be used to mail your letter! You can even combine Forever stamps with vintage postage – so go nuts!
Vintage postage (meaning any stamps that are not standard issue on USPS.com) can be a great way to add personality to your piece of mail. Take for instance my couple, Audrey and Greg, who share a passion for everything space-related. Their wedding invitations featured (amongst others) Apollo 8 stamps, constellations and solar imagings. How cool! 
Vintage postage can also be used to keep the color theme of  postage consistent with the rest of the invitation. Your invitation design does not end at the invitation itself.  A colored envelope with pretty stamps will let your guests know there is some truly important stuff in this envelope. It is also just another area where you can let your creativity go wild – by adding calligraphy, flourishes, or a wax seal to close the flap!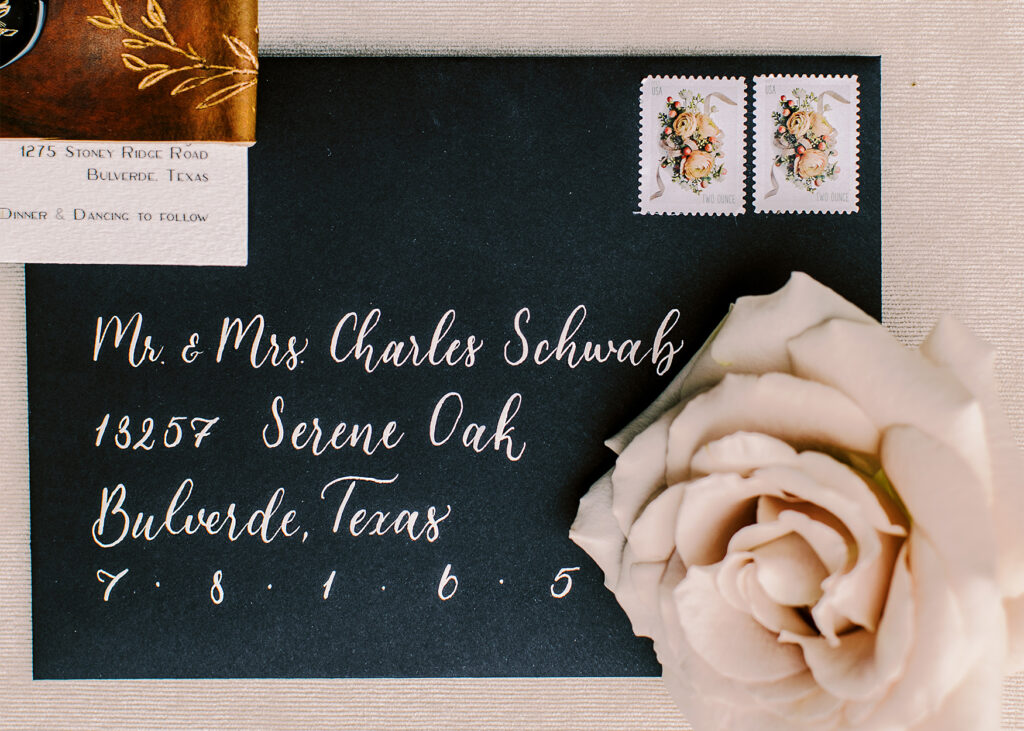 General tips for applying postage and mailing invitations
When in doubt - add extra postage
Trust me – it is better to be safe than sorry! While the mail sorters might let one envelope with insufficient postage slip through the cracks, chances of them doing that for 50-100 at the same time are slim to none. If after the steps above, you are still not 100% sure about the correct postage amount, go with the higher rate. This will ensure your mail will make it to its final destination. Besides, in the grand scheme of all things wedding, those 20 cents extra per envelope won't break the bank. For 100 envelopes, this comes to an extra $20 in postage. For me, that is worth the peace of mind – especially when sending out some of the most important letters of your life!
Order your postage in time - or go on the hunt!
As with all things wedding: don't wait til the last minute! When you order from USPS.com, keep in mind this isn't Amazon! USPS stamp orders usually arrive within 1-2 weeks. I usually receive my order within a week, but sometimes it does take longer to make its way through the postal system! Order your postage alongside your invitations so you will get both around the same time.
Most of the stamps you find on the USPS website, are available in your local post office. Ask a postal worker what stamps they have for weddings, and usually they are more than happy to show you their current selection. Sometimes they won't have enough of one particular stamp – in that case, you might have to go to a few different post offices to get your needed number of stamps!
For vintage postage, you should plan even further in advance. Etsy is a great place to find vintage postage – some of my favorite storefronts for this are LittlePostageHouse, byEricaLeigh, VintagePostageShop and others. These sellers will sometimes even sell curated sets – ready for you to apply to your pretty envelopes! Just make sure it adds up to the right amount of postage. 
If you are planning to put wax seals on the envelope – make sure they are properly protected. The USPS mailing process is no friend to envelopes, and wax seals (or other accessories) may be ripped off while it makes its way through the postal system. While non-machinable would suggest envelopes only get handled by workers, this usually only goes for the first post office it encounters – from there it generally goes through the system as per usual. 
I recommend using a double envelope method (inner and outer envelope) when using wax seals. You can also get a clear sleeve for your envelope, which will protect the envelope without compromising on the design. If using the sleeve, make sure you stick the postage on the clear sleeve itself so that the postage can still be canceled!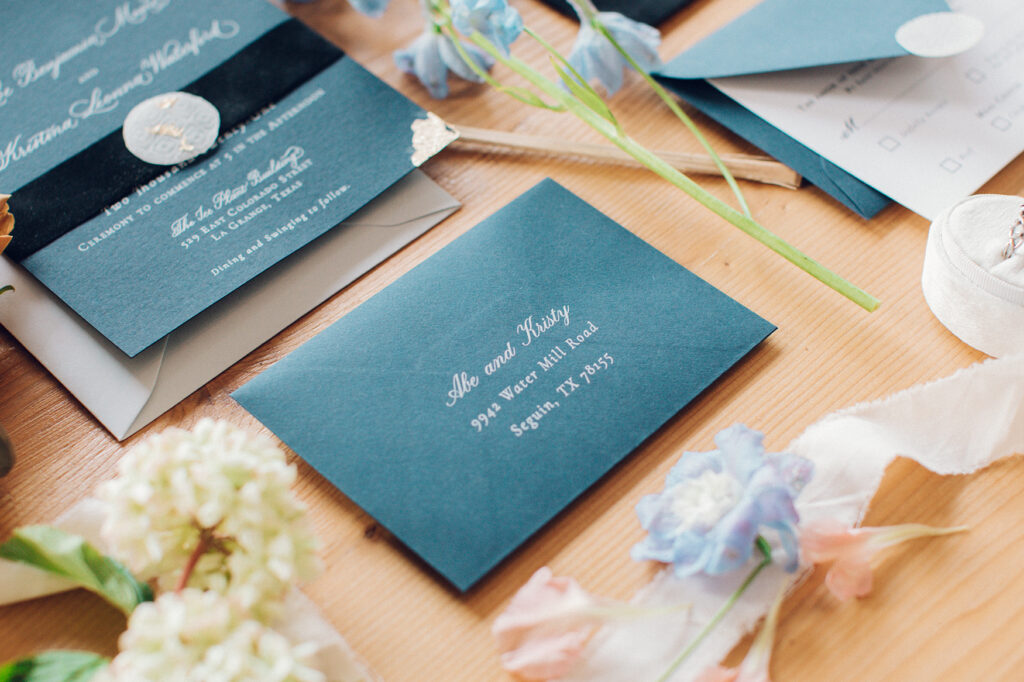 Don't forget the RSVP envelope!
If you are asking your guests to return their RSVP card to you in an RSVP envelope, it is customary to pre-stamp the envelope for their convenience. RSVP envelopes generally have little more in them than the RSVP card, so generally speaking a 1oz Forever stamp should do the trick for this! 
If you would like to avoid the cost of this extra postage, opt for a digital collection of your RSVPs. Most wedding websites such as The Knot have this feature built in, and you can keep all your RSVP information in one place. 
No matter how well you plan, the sad reality is that in spite off all the careful planning, mail will still sometimes get lost. It is very normal for 1-2% of your envelopes to get lost. So make sure you have 2-3 extra invitations on hand, in case you need to resend one that didn't make it to its final destination!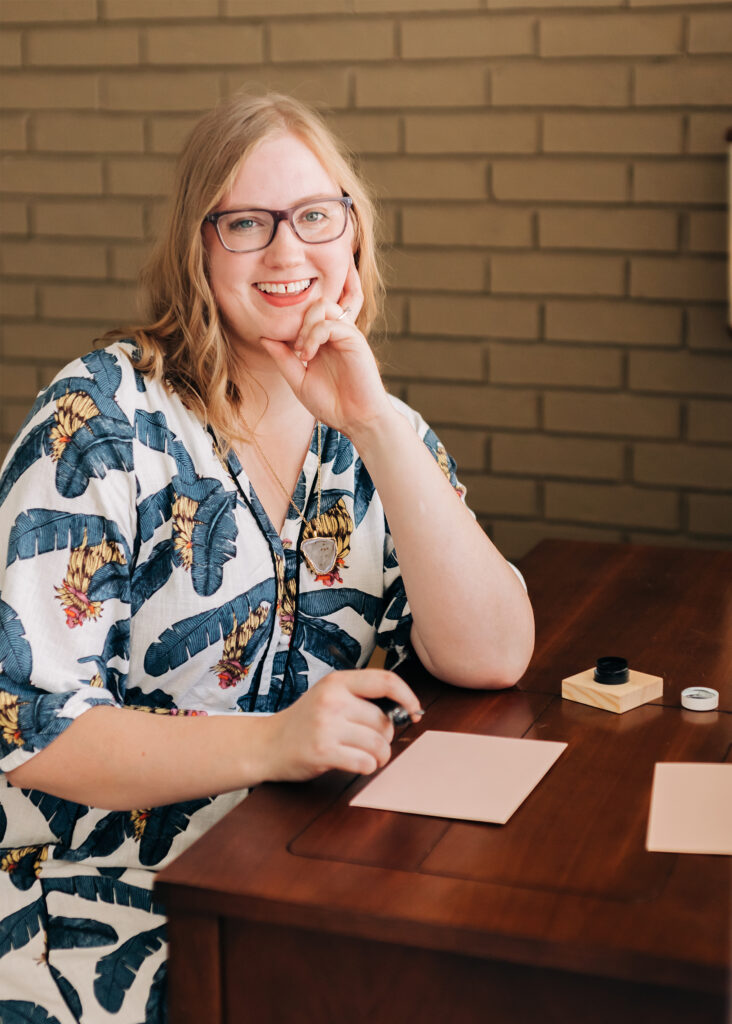 Charlotte Rosales is a calligrapher and wedding invitation designer in San Antonio, Texas. In her studio, CalliRosa, she creates everything from custom invitations, to place cards, envelope calligraphy and wedding signs. Charlotte serves the greater Texas area: Dallas, Houston, Austin, San Antonio, the Texas Hill Country and everything in between. Learn more about Charlotte and CalliRosa here!