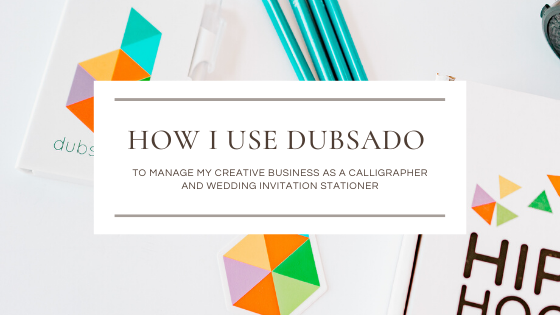 I have worked as a calligrapher and invitation designer in San Antonio now for over 2 years. In that time I have seen CalliRosa grow from a small and informal calligraphy studio to an actual brand. As I am currently working on a brand refresh, I am also reviewing my systems. I don't like reinventing the wheel constantly, such as writing the same email over and over. I am at a place in my business where I invest in clever systems like Dubsado to save myself some precious time. Below you'll find some of the ways I use this incredible CRM to make my life as a creative business owner easier!
Eager to get started? Use the code "CalliRosa" for 20% off your first month or first year! I would go with the first year as this gives you more than two months for free!

(Disclaimer: the links in this post help generate credit for me, and give you an extra perk for signing up! Win win 🙂)
Dubsado: the CRM all creatives need
Dubsado is my absolute favorite tool to use, and I couldn't run my business without it! It holds the heart of my creative business, and does an amazing job of helping me keep track of payments, client communication, and so much more! Dubsado is geared towards creative businesses. This shows in the easy drag an drop way you can build forms for example. No coding needed, halleluja!
Dubsado is a CRM, and falls in the same category as Honeybook, 17Hats, and Tavé. Let me first explain what a CRM is: it stands for Client Relationship Manager. Shortly said: it helps you manage your clients and maintain a great relationship with them. Here are some of my favorite ways I am using it as a calligrapher and invitation designer: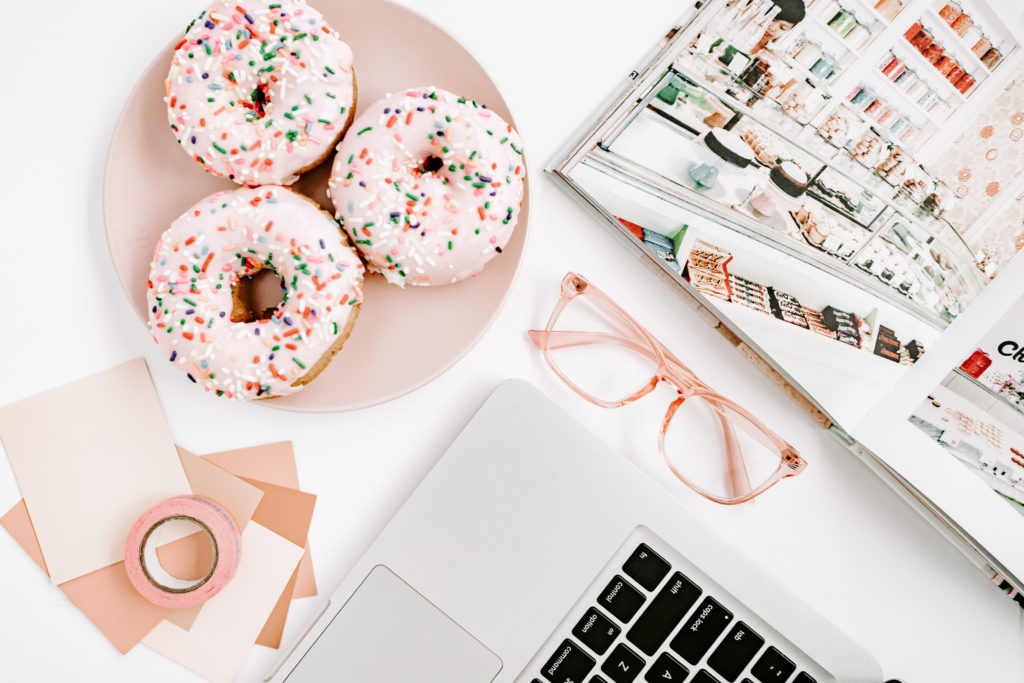 Features: Proposals
Proposals: an all-in-one process to getting your client in the door and getting you booked!
Proposals are set up in a way to make your booking process as easy as can be. It starts with the proposal page, which you build to hold your services, have clients select packages and confirm their total. From there it has them sign your contract, and one click later, shows them the invoice. To pay the full amount or just a deposit – up to you!
I love using it as an order form for my envelope calligraphy. It gives my clients the option of choosing their addressing style and add extras if they want, such as a specific ink color. A set of questions helps me gather all the information I need. Examples of how I use this: such as when they need the envelopes back, and the ink color they want me to use.
Once they have selected the services they want, it leads them straight to the contract, and after signing, to the invoice page. I require a minimum payment of 25% of the total to complete booking, which Dubsado calculates for me automatically. Dubsado even has the option for giving a tip! You can find an example of one of my proposals here.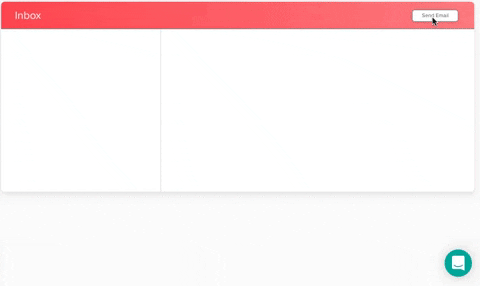 Dubsado's Canned Emails
Do you ever need to write almost the exact same email? I definitely have! Writing first email I send to a prospective client after they inquire is very repetitive. Or letting a client know a proposal is ready for viewing – not much customization needed here! I used to write all these emails from scratch every time. And every time, it would cost me between 15-30 minutes, especially when answering inquiries about custom invitations.
I recently spent some time mapping out my client processes for all the services I offer. From there I was able to create templates, canned emails in Dubsado, for emails I don't need to write from scratch every time. I use [brackets] and different font colors to indicate some custom information is needed in the email, so that the email still sounds genuine and like me, but the framework is already there. It's like Mad Lips, but for email :)!
Now every time an inquiry comes in, I usually spend only a maximum of 5 minutes to anwer, and usually hit send within 1 minute! That is a timesaver of at least 10+ minutes per inquiry!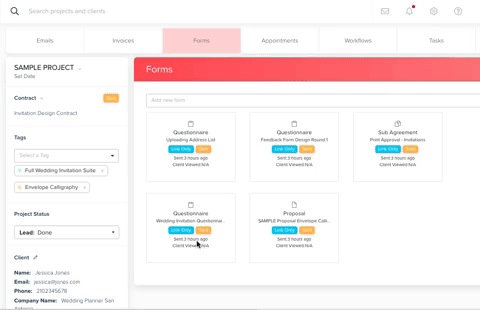 Forms
I use forms in almost every step of my client process. From the first inquiry, to booking a client, address lists, inspiration picture uploads, to getting information from my client for their wedding invitation – I have set up forms within Dubsado to get the information I need easily and quickly. As said before: the drag and drop functionality makes building forms super easy.
I get a notification when a form is completed, or a draft is submitted. Moreover, I can always easily refer back to it on the client's project page. My clients love the ease with which they can give me information. And they can even upload files and pictures – such a great bonus! No more searching 20 minutes in my inbox for that one email!
Dubsado Client Portal
Dubsado also gives you the ability to set up a secure portal for your clients. I use this feature mostly for my wedding invitation clients. There is usually so much more to keep track of within this process than with simple calligraphy. In the portal, they can find my emails, invoices (and make payments towards them!), forms they submitted, forms they still need to complete, and the contract. It literally has everything our project entails in one spot.
I have set up a sample portal on which you can browse around for yourself! You can find it through this link. The email address you need to access: jessica@jones.com – this is a fake email address – trust me, I have checked 🙂. Note: as you can see it appears to come from my own website! Dubsado lets you integrate everything within your own domain, so that your clients never see you are using a 3rd party tool to manage their account. Disclaimer: All info on the portal is generated as a sample, and does not reflect accurate pricing.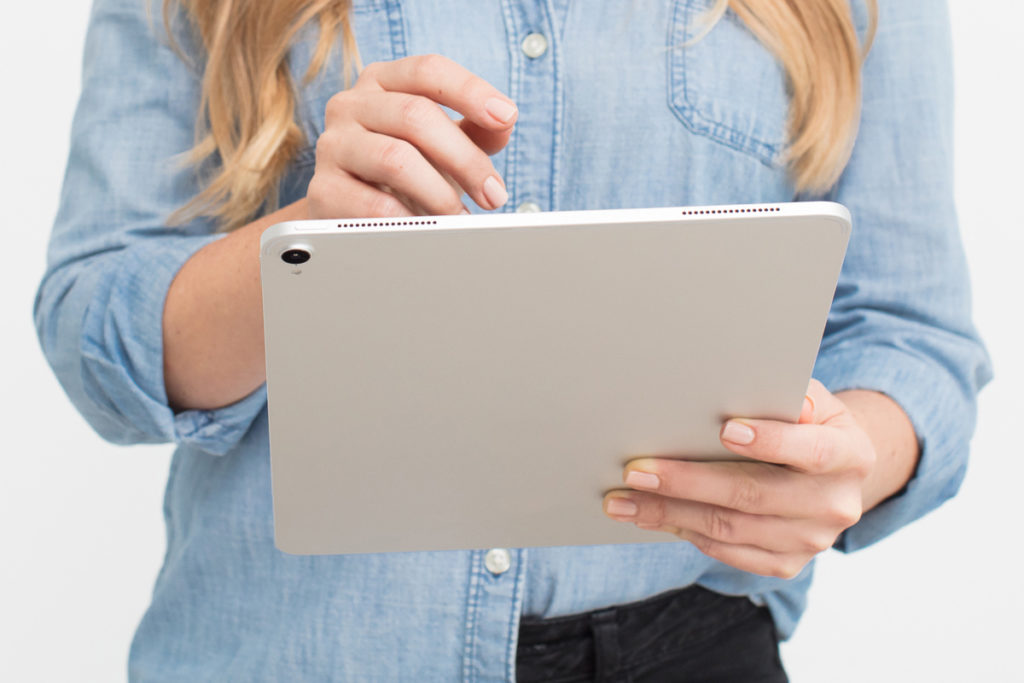 Subcontracts: Proofs
The one feature that helped me decide between Tavé and Dubsado: subcontracts. Most CRMs only let you add one main contract to a project. While this is fine for most of my calligraphy work, I wanted to make sure that I was legally covered for my design work. Let me explain.
Say, a client signs off on a design for a wedding invitation in letterpress, in person, while we walk through the design one last time. Letterpress is one of the most expensive ways to print. The printing alone is going to cost, say around $1000 – from making the plate, to the paper, to the actual letterpressing done by a professional printer. After the printing process has started, my client discovers a mistake – a spelling error that neither of us caught. Client demands I rectify the situation and pay the reprinting costs. I say that proofreading is her responsibility, and therefore the reprinting is on her dime. Client refuses to pay and I have nothing to legally hold her to the reprinting costs, as I didn't get her approval in writing. Now I am out $1000 to make sure my client stays happy.
This is where subcontracts come in. A subcontract is an extra agreement form you can add in Dubsado. It requires a digital signature to complete, which is legally binding. It doesn't replace the original contract, but adds to it. I use it mostly for print approvals, but it works just as well for project scope adjustments or cancellation contracts for example.
Workflows
Now full disclaimer: I am not currently using workflows in my creative business (yet!). Dubsado is a beast, and one of my goals for December is to really delve into the workflows and fully automate some processes. This does not stop Dubsado from being more than useful in my business already though!
I am intending to use workflows to automate some of the work that goes into onboarding a new invitation client for example. Other ways it can help is in inquiry processing. Say, when a new lead comes in, automatically have Dubsado send out a pricing guide. There are so many more ways to use these workflows. I am really excited to delve more into these and save even more time than Dubsado already helps me do!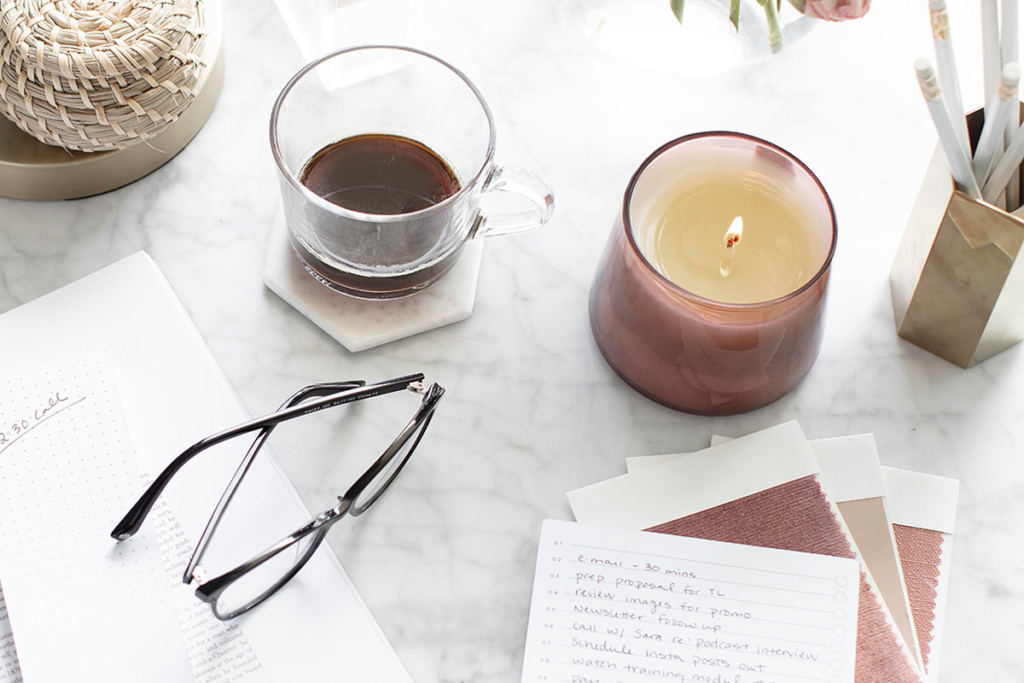 Setting It All Up
Now I must say honestly: it is not a magical unicorn that is set up in one afternoon. There are sooo many more features you can use besides the ones I touched on today. From schedulers, to creating to-do lists, and Dubsado comes out with new features on the regular. It takes time to fully understand how to leverage Dubsado best for your business. But if you spend some time working through the system, and make a template every time you are doing something new (like writing an email that you've written 5 times already), it can win you back so much time.
One of the best things about Dubsado is their community. Their Facebook group is full of people who are well-versed in the system. They can help you brainstorm solutions to problems you might run into. Their support chat is AMAZING: super helpful and available probably around 19/7 (not fully 24/7, but super close!). When I contact them, I usually have an answer from them within 1-2 hours, most of the times quicker. They also offer 1:1 calls to show you around the platform, and a free transfer of 10 forms from other platforms!
Ready to get started? Use the code "CalliRosa" for 20% off your first month or first year! I would go with the first year as this gives you more than two months for free!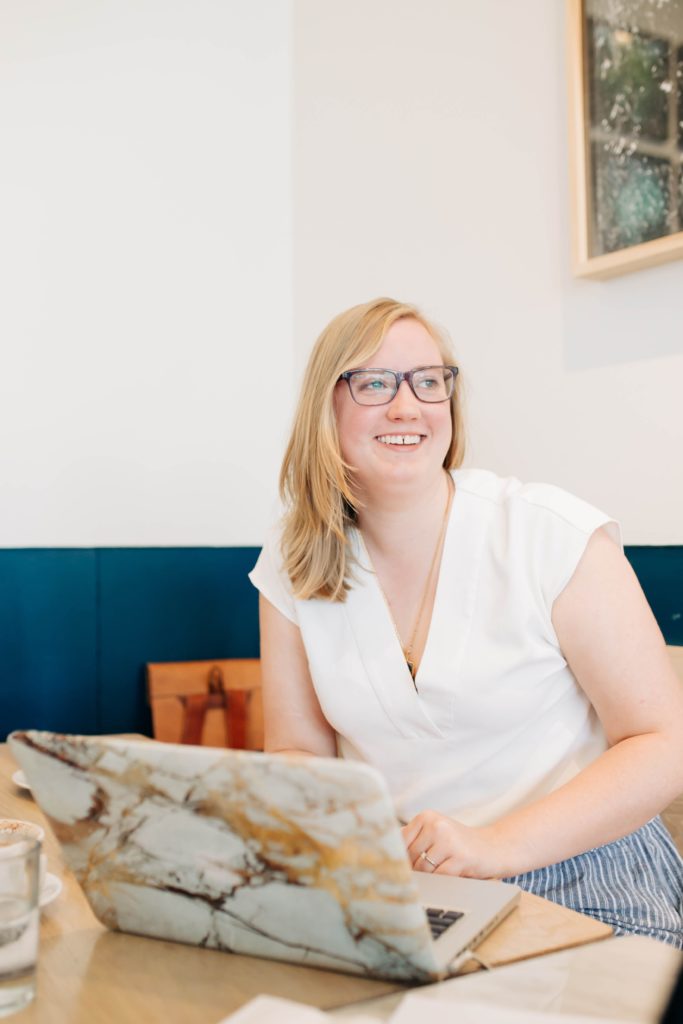 Charlotte Rosales is a calligrapher and wedding stationer in San Antonio Texas. Her studio, CalliRosa, creates everything from custom invitations, to placecards, envelope calligraphy and wedding signs. Charlotte serves the San Antonio, Boerne, Fredericksburg, Spring Branch, New Braunfels, and Texas Hill Country area. You can learn more about Charlotte and CalliRosa here, and you can click here to say hi!