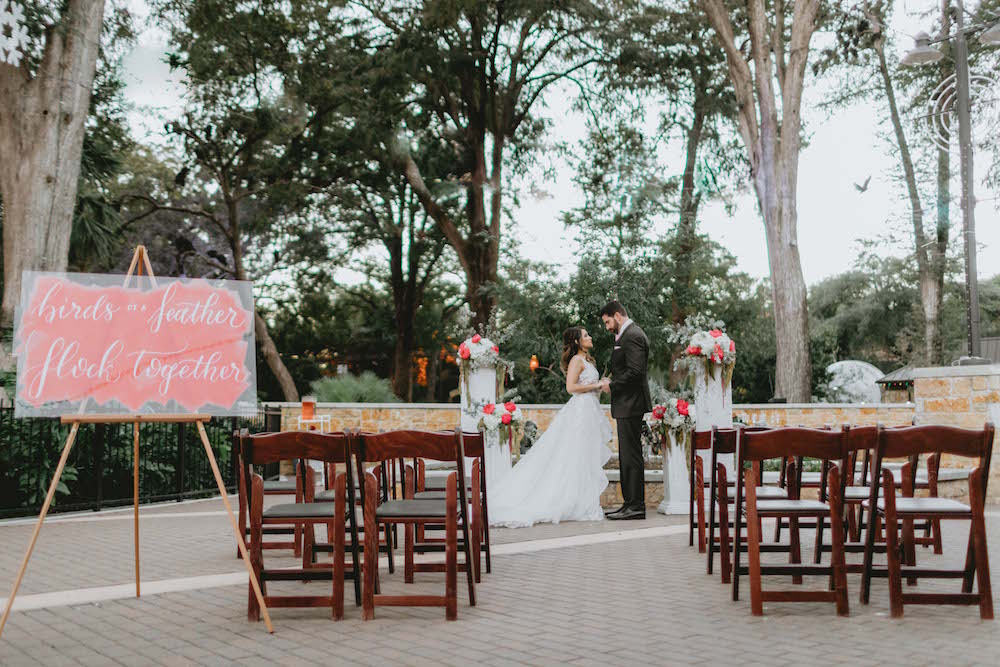 With summer in full swing, I thought it would be fun to share this not-so-standard wedding styled shoot series I participated in at the San Antonio Zoo! Today I am featuring the first of this series, the "flamingo shoot". The inspiration for this shoot were the flamingoes (duh), and these fun colors make for the ultimate coral wedding inspiration. It is whimsical, a little boho, but most of all just fun! I'll walk you through all the different vendors that made this shoot possible – cause this was a dream team!
Photographer: Jenna Lee
When talking about the vendors, I first need to talk about Jenna from Jenna Lee Pictures. She was the photographer for this shoot series, and she is an insane force to be reckoned with. She is a photographer mainly based in Hawaii, but travels all over the world for destination weddings and adventures. At the moment she is ranked the third best wedding photographer in the WedAward, and has so many more awards and accolades under her belt. Believe it or not, she is super down to earth, and was so much fun to be around! She really pulled out the best of all the vendors involved, and of course, her talent is shown through all the photos in this blog post.
Planner: Vida Chic Events
Chavah from Vida Chic Events was the mastermind behind this shoot, and she blew it out of the water. Vida Chic has locations both in San Antonio and in Hawaii, and puts on the most beautiful events both in Hawaii and Texas. She perfectly captured the fun and whimsical feel by choosing all of the right vendors, and her vision was perfect for this summer shoot.
The Location: San Antonio Zoo
While the zoo might not be the first location you think of when you think wedding, it definitely is a great option for a unique wedding! The light is so beautiful at the San Antonio Zoo, and it has a tropical vibe your guests will love. It has built in entertainment, with your loved ones being able to enjoy the flamingoes and all the otherdifferent wildlife during cocktail hour. It also produces some stunning and unique pictures, like the one shown above.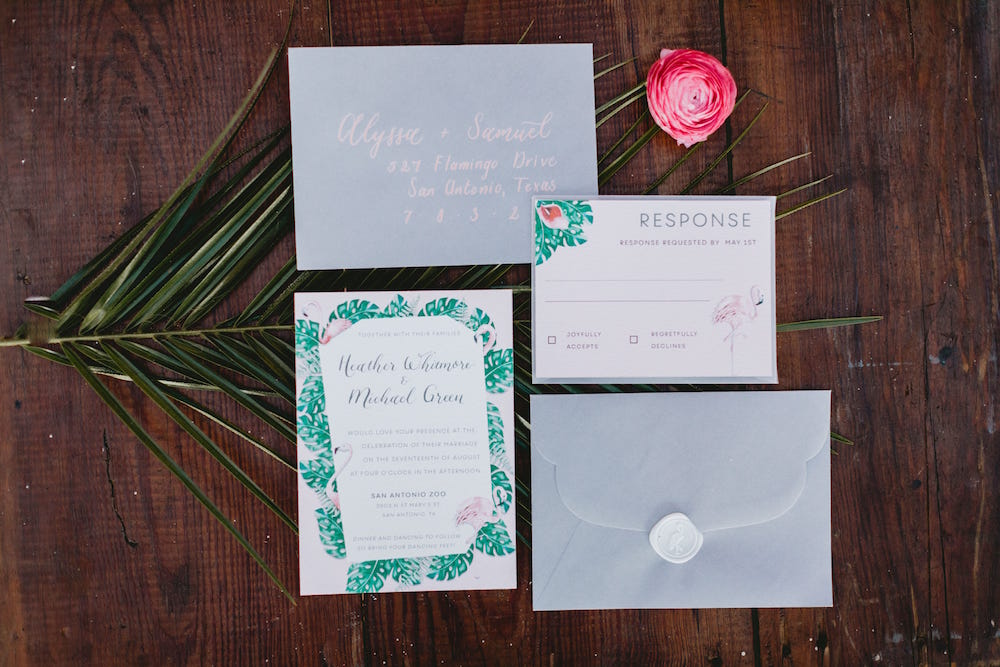 Invitation and Signs: CalliRosa
For this shoot I wanted to hold true to the whimsical feeling we were creating, and I created a fun and light invitation suite to reflect this. I also added some fun details like the peach writing and a wax seal with a flamingo on it. For the place cards on the table, I chose a deep coral with a gold accent and white writing on acrylic, a material I absolutely love working with at the moment. It is super versatile, and can be used both for formal and informal settings. The sign has a bird-related quote on it ("birds of a feather flock together") and is painted in the same manner as the summer-y place cards.
Our Models: Alyona Grace and Neal Henderson
The stars of the show: our models – and my gosh how they delivered! Unlike most of the shoots I participate in, these two were not a real life couple. But they could have fooled me! The chemistry these two had was so beautiful to watch, and it truly made for the best shots.
Hair and Makeup: Madame Make-up and Hair and Dress: Bella Bride Boutique
I have worked with Madame Make Up and Hair and Bella Bride Boutique on several different locations, and they always deliver the most stunning results! When looking for a hair and makeup team for your wedding, or for your wedding dress, look no further!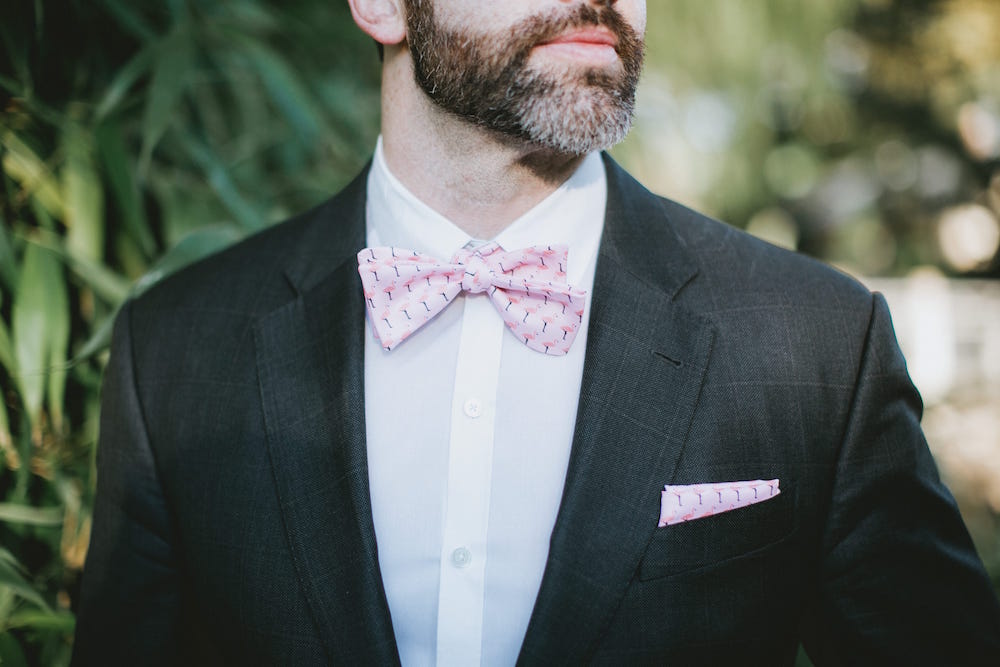 Suit: Rex Formal Wear and Specialty tie: Knotty Tie Co.
With over 70 years of experience Rex Formal Wear is the premier tuxedo rental shop in San Antonio, and this sleek suit is no exception. For a flamingo wedding we of course need a flamingo tie. This whimsical bowtie came from Knotty Tie Co., a Colorado based custom tie company, which helps refugees resettle by offering them jobs making high quality, custom products.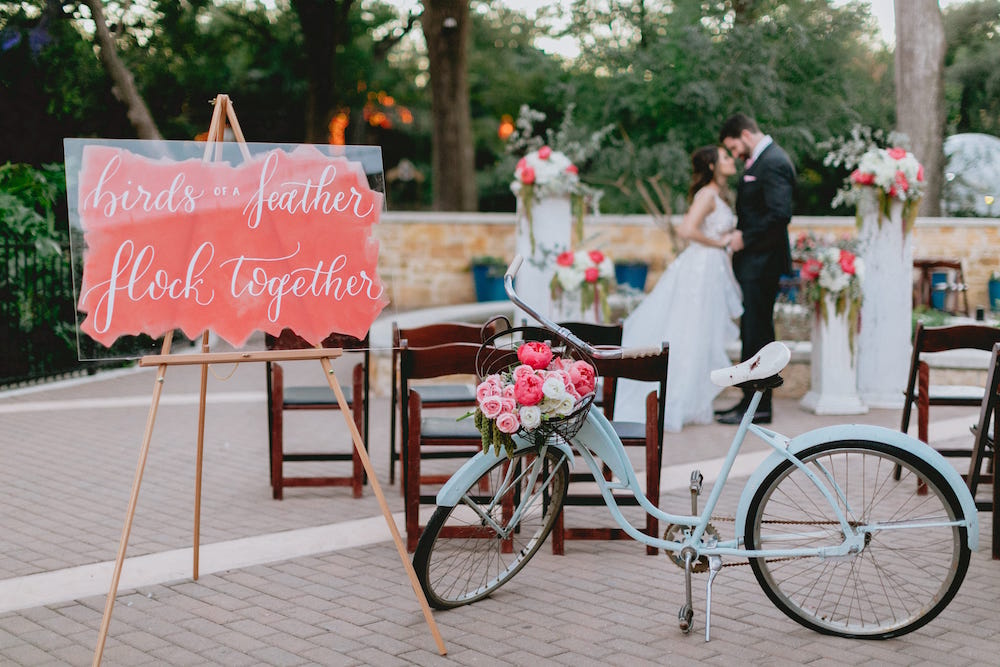 Rentals: Cru Vintage Rentals
Laurie from Cru Vintage always has a special place in my heart. Not only does she have stunning furniture that will add a sophisticated touch to your event, flamingo wedding or not, but she has several modern pieces, as well as this fun bike!. But more than that, she is just the sweetest person you will ever meet and always goes above and beyond for her clients!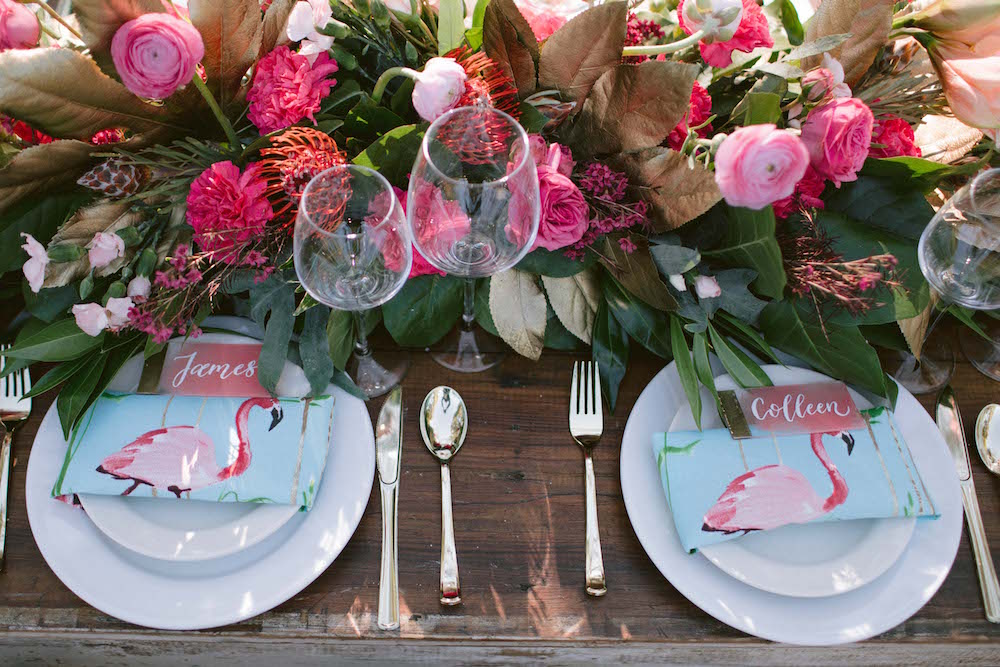 Bouquet and Centerpiece: Madly and Love Blooms
And lastly: Hannah from Madly and Love Blooms. Hannah and I have never met in person, but we worked together on a couple of different shoots, and I feel like I know her purely through the work she produces. It is nothing short of stunning every time. For this summer coral wedding theme she pulled out beautiful pink and coral booms, that together with the luscious greens of the leaves crowned the whimsical and fun vibe of this shoot. Seriously guys, hire her for your wedding now!
Vendor list
Here is a list of the vendors that made this summer flamingo wedding styled shoot possible:
Photographers: Jenna Lee Pictures
Coordination and design: Vida Chic Events
Hair and Makeup: Madame Make Up and Hair
Venue: San Antonio Zoo
Calligraphy: CalliRosa
Dress: Bella Bride Boutique
Specialty tie: Knotty Tie Co.
Models: Alyona Grace and Neal Henderson
Centerpiece and bouquet: Madly & Love Blooms
Vintage furniture, cake platters and bike: Cru Vintage Rentals
Mens attire: Rex Formal Wear
Want more wedding inspiration? Check out our Gallery for more work by CalliRosa!
Charlotte Rosales is a calligrapher and wedding stationer in San Antonio Texas. Her studio, CalliRosa, handles everything from custom invitations, to placecards, envelope calligraphy and wedding signs. Charlotte serves the San Antonio, Boerne, Fredericksburg, Spring Branch, New Braunfels, and Texas Hill Country area. You can learn more about Charlotte and CalliRosa here, and you can click here to say hi!
[the_grid name="Flamingo Shoot"]