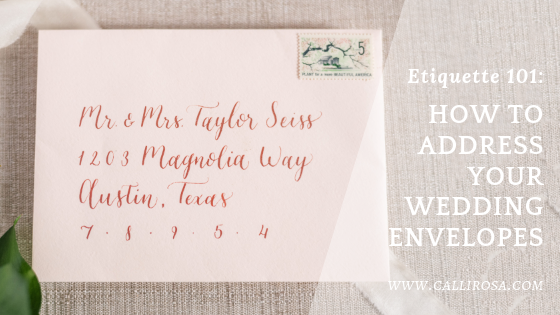 You booked your venue, you have your caterer, photographer. Your invitations are designed, locked in and ordered. Now it is time to address those pesky envelopes to your uncle and aunt, who is a doctor, and your single mom friend who you invite to come with her kids ánd a date. How do you address their envelopes? Is there a correct way? I will help you navigate the tricky addressing situations today in our wedding etiquette series.
A few things to keep in mind…
Traditional vs. non-traditional
First of all it is good to realize that how you are addressing your invitation envelopes matters. It is literally the first thing people see of your wedding vision – even before the invitation – and it helps translate the expectation you want to create of your wedding day. Doing highly formal addressing, while your wedding day will be more laid back might not give off the right message. This is why I will give you the formal etiquette rules, but also will give you examples on how to break them.
Inner and Outer Envelopes
It used to be a custom to have two envelopes: an outer envelope, for the mailing, and an inner envelope, to keep all elements together with the invitation and to keep the invitation clean. It is a tradition that feels really formal nowadays, and honestly – unless you have a really formal wedding, I personally don't think they are necessary. There are plenty of other embellisments that are far more interesting than an inner envelope in my opinion. But: to explain the addressing rules, you have to keep this practice of inner and outer envelopes in mind. The outer envelope addressed more formal, while the inner envelope usually only has first names, or familiar names (like "aunt Becky & uncle Raul") written on them. Keep this in mind when reading the next few paragraphs.
Traditional Envelope Addressing
Individuals – Male, Female, Kids
Let's start with the easiest ones to address: individuals. For a man, Emily Post says, the correct addressing in a formal setting will get the addressing of "Mr.". This goes for whether he is divorced, widowed or unmarried:
"Mr. Andrew Johnson"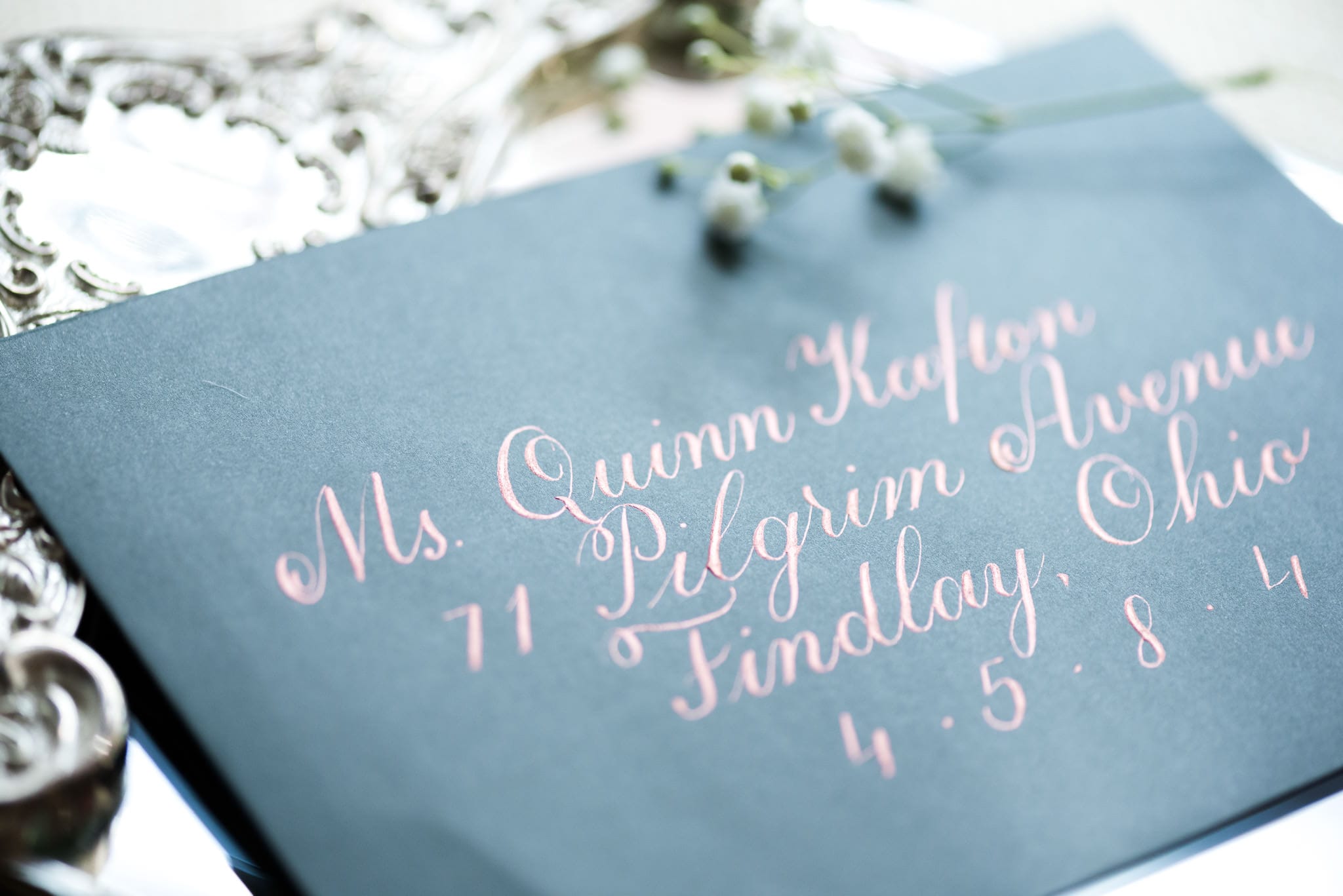 A woman, unmarried, usually gets addressed as "Ms.". If the woman in question is separated, but not divorced (yet) from her husband, you will keep using the married name. Should she be divorced, there are a few different options. If she took on her maiden name again, she will be "Ms. Jane [maiden name]". If she still uses her ex-husband's name, we use either Ms. or Mrs.. If widowed, and you know her preference, you can still invite her by her married name, using the deceased's full name, or use it with her first name. Below are all examples:
"Ms. Jane Potter" (unmarried, or divorced, using her maiden name)

"Mrs. Andrew Johnson" (widowed or separated, but not divorced, most traditional form)

"Mrs. Jane Johnson" (widowed or separated, but not divorced)

"Ms./Mrs. Jane Johnson" (divorced, but still uses husband's name)
Since you normally won't invite kids by themselves, unless it is a kid's party, I will get back to this under the "Families" section. If you really need to invite children (under 18) separately, according to wedding etiquette, you can address them with "Master" for a boy (under age of 13), and "Miss." for a girl.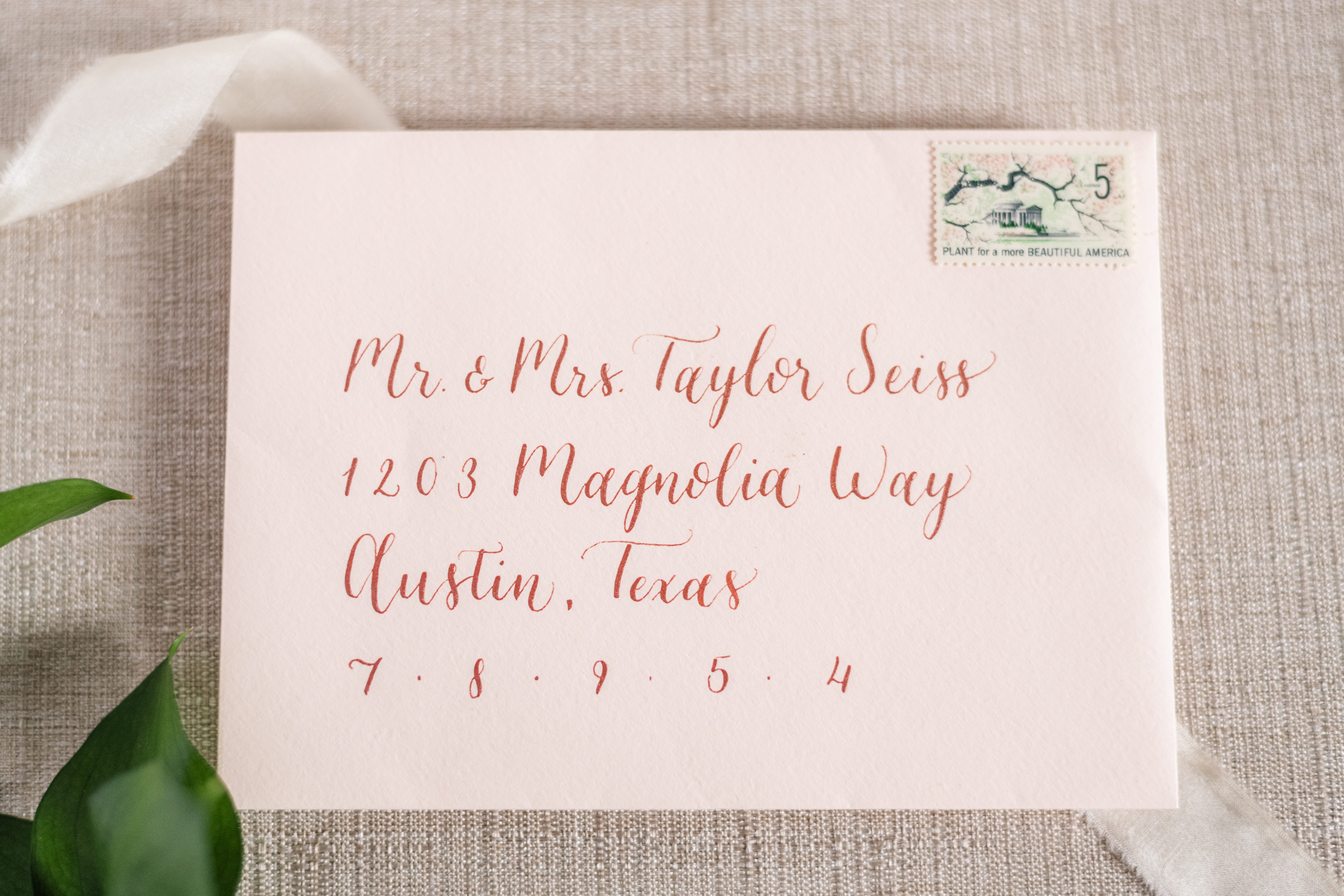 Couples – married, living together
For married couples, Emily Post tells us that they need addressing as "Mr. and Mrs. [husbands first and last name]". The wife's first name does not get mentioned in the traditional envelope addressing. There is no need for a man's middle name. If the wife prefers to use her maiden name, or the title "Ms." in social situations, this is also acceptable. In very formal occasions, there are still people who are of the opinion that the woman's name always comes first and a man's name cannot be separated (i.e. Mr. and Mrs. Andrew and Jane Johnson would be wrong), however, nowadays this is acceptable, and whether the woman's or the man's name comes first doesn't matter – unless one in a couple "outranks" the other – more on that a little later.

"Mr. and Mrs. Andrew Johnson" (married, wife uses husband's name)

"Ms. Jane Johnson and Mr. Andrew Johnson (married, wife prefers title Ms."

"Ms. Jane Potter and Mr. Andrew Johnson" (married, wife still uses maiden name)
For unmarried couples living together, the woman will still be addressed by her maiden name:
"Ms. Jane Potter and Mr. Andrew Johnson" (unmarried but living together)

"Mr. Andrew Johnson and Ms. Jane Potter" (remember, the order of names doesn't matter!)
Couples: Same sex
Traditional etiquette does not have a lot to say about same sex addressing. But according to Martha Stewart, same sex couples who are unmarried will have the same treatment as mentioned above, with unmarried titles. You can address them alphabetically in order to avoid showing preference or ranking of one over the other. Married same sex couples will get their married titles, but will still be mentioned separately, with full names. See below for examples:
"Ms. Becca James and Ms. Amanda Wright" (unmarried, same sex female, but living together)

"Mr. Kevin Kelly and Mr. Henry Truman" (unmarried, same sex male, but living together)

"Mrs. Becca James and Mrs. Amanda Wright" (married, same sex female, kept their own names)

"Mrs. Becca James and Mrs. Amanda James (married, same sex female, same last name)

"Mr. Kevin Kelly and Mr. Henry Truman" (married, same sex male, kept their own names)

"Mr. Henry Truman and Mr. Kevin Truman" (married, same sex male, same last name)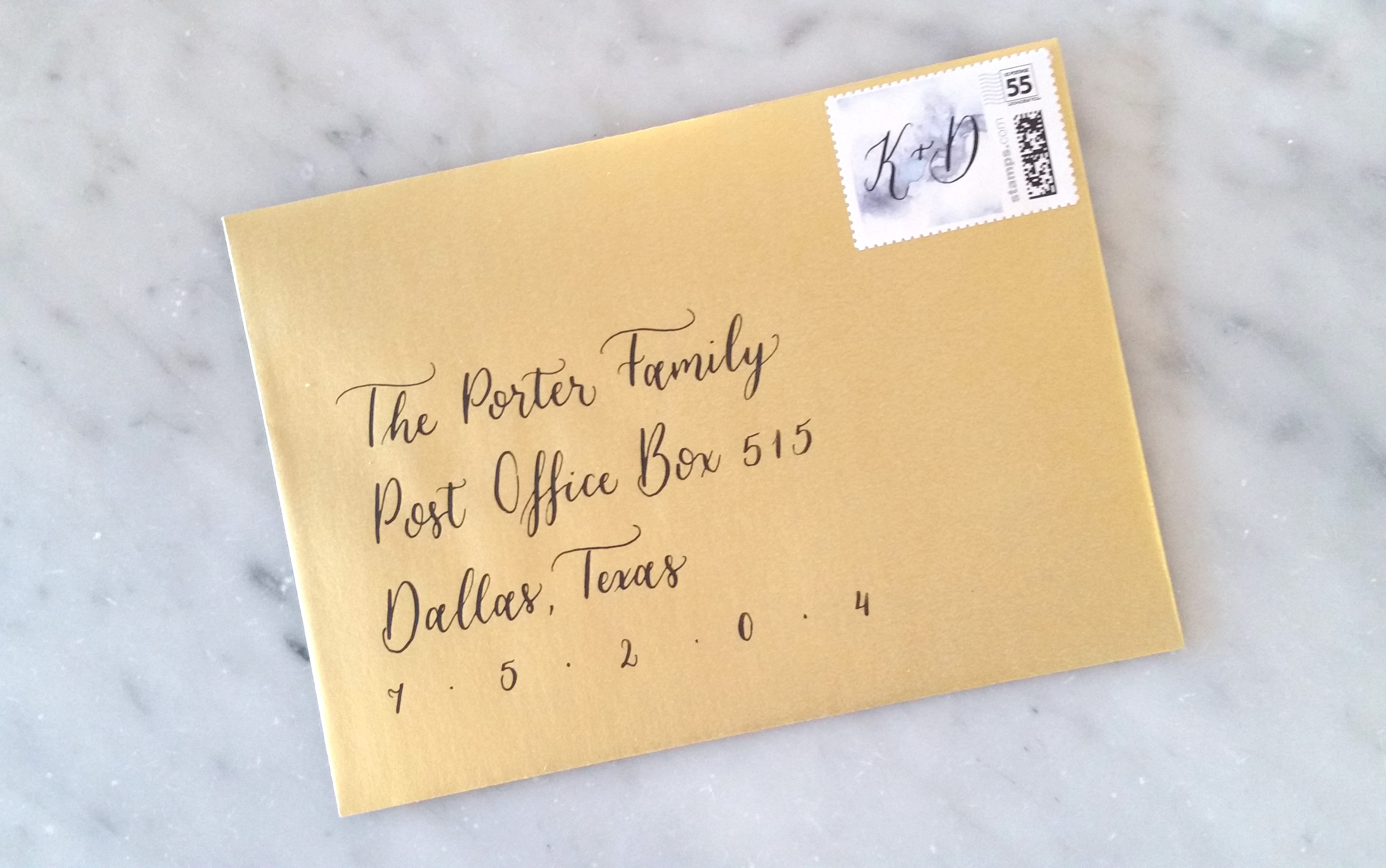 Families
When listing families, we usually will list the couple, followed by the first names of the children. It will look something like this:
"Mr. and Mrs. Henry Kelly, Christina, Billy and Philip" (family)
Children over 18 should receive their own invitation. Here is where the inner envelope makes a difference: when using inner and outer envelopes, etiquette dictates only the parents are mentioned on the outer envelopes (they are the ones opening the mail). Then the children's names are mentioned on the inner envelope, together with their parents. The children are mentioned on the lines underneath Mom and Dad, and are listed in order of age, starting with the oldest. They can be addressed on each their own line, or together on one line. This is an example how this would work:
Outer envelope: "Mr. and Mrs. Henry Kelly"

Inner Envelope:

"Mr. Henry Kelly and Mrs. Allison Kelly

Miss Christina

Mr. Billy

Master Philip" (if children are say 17, 14 and 10)
Titles
By titles, I refer to the professional titles a person may have, gained in their education or professional career, i.e. doctor or professor. In every case, the person with the rank will be mentioned in full, whether it be a man or a woman. If the wife outranks the husband, her name comes in full before her husband. In cases of both individuals having titles, you usually mention the wife first. Examples:
"Dr. and Mrs. Henry Kelly" (the man has a title, the normal way of listing a married couple applied, with the exception of the Mr. turning into Dr.)

"Dr. Allison Kelly and Mr. Henry Kelly" (the woman has the title, gets mentioned in full first, followed by her husband)

"Drs. Allison and Henry Kelly (both have titles)

"The Honorable Allison Kelly

and Dr. Henry Kelly" (woman is a judge, gets a mention first, if you cannot fit Dr. Henry Kelly on the first line he gets his own line together with the combining word "and")
Guests
Spouses of invitees should always be invited, and as a general rule, so should fiancé(e)s. When your invitee is dating, the line of inviting their date becomes a bit blurry, but overall the general rule in etiquette would be to invite their boyfriend/girlfriend if they have been dating for more than 6 months. Feel free to use your discretion considering your budget and how long they have been together, to decide whether or not to invite them. If your invitee is dating, try to find out the name of their significant other. When using inner and outer envelopes, the outer gets addressed to only the invitee, and the plus-one gets mentioned on the inner envelope. If only using an outer envelope, the plus one gets a mention on the envelope:
Outer envelope: "Mr. Wendall Graves"

Inner Envelope: "Wendall and Guest" (Wendall gets a plus one, inner and outer envelopes are used)

or

"Mr. Wendall Graves and Guest" (Wendall gets a plus one, only outer envelope)

"Mr. Wendall Graves and Ms. Ally Border" (Wendall gets to bring his girlfriend of 8 months)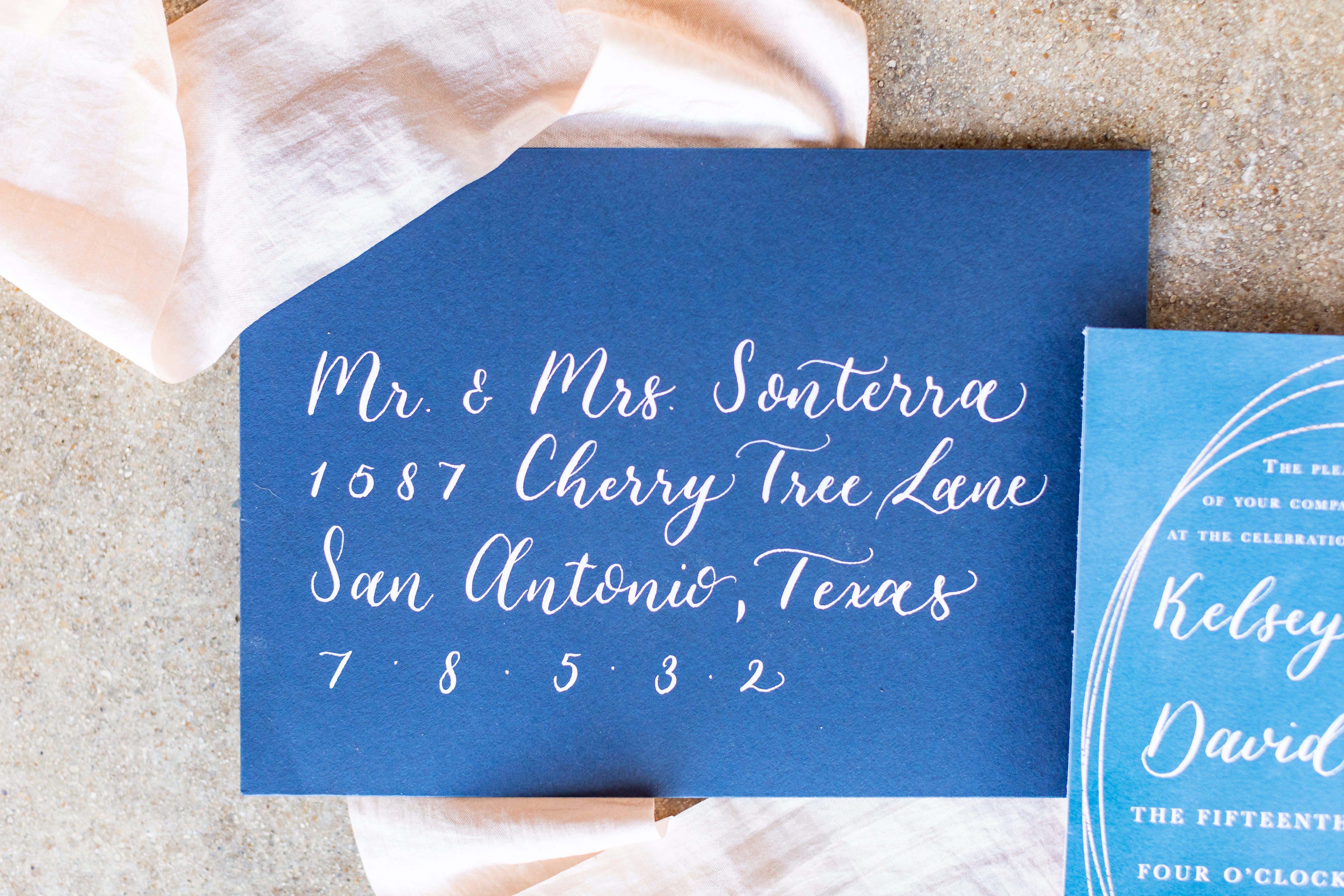 Address Etiquette
Keeping etiquette in mind, addresses have to be written out in full. Street types are written out in full. Secondary address details such as "unit" and "apartment". Write state names out in full. In short, it means no abbreviations of any kind, except for the titles as described above. For wedding envelopes, I will usually drop the zip code to its own line, as to make sure there is enough room for the state name to shine.
You can find a list of the most common abbreviations I come across as a calligrapher below:
Ave, Blvd, Cir, Ct, Dr, Jct, Ln, Rd, Sq, St, Trl, Vly


Expy, Fwy, Hwy, Pkwy,



FM, RR, CR



P.O. Box

Apt, Bldg, Rm, Ste, U



N, S, E, W or combination




State abbreviations such as TX
Avenue, Boulevard, Circle, Court, Drive, Junction, Lane, Road, Square, Street, Trail, Valley

Expressway, Freeway, Highway, Parkway

Farm To Market Road, Ranch Road, County Road (note: not country )

Post Office Box

Apartment, Building, Room, Suite, Unit

North, South, East, West – combinations are written as Northeast/Southwest etc.

States should be fully written out
And or &
When I write envelopes, I usually use the ampersand (&) more than the actual word "and" – mostly for aesthetic reasons, but also partly to save space. With calligraphy, every letter is stretched out a little further than with regular type, and I try to save space where I can. The difference between the full word and the ampersand is not that big in etiquette, and therefore I use it both in formal addressing and non-formal addressing.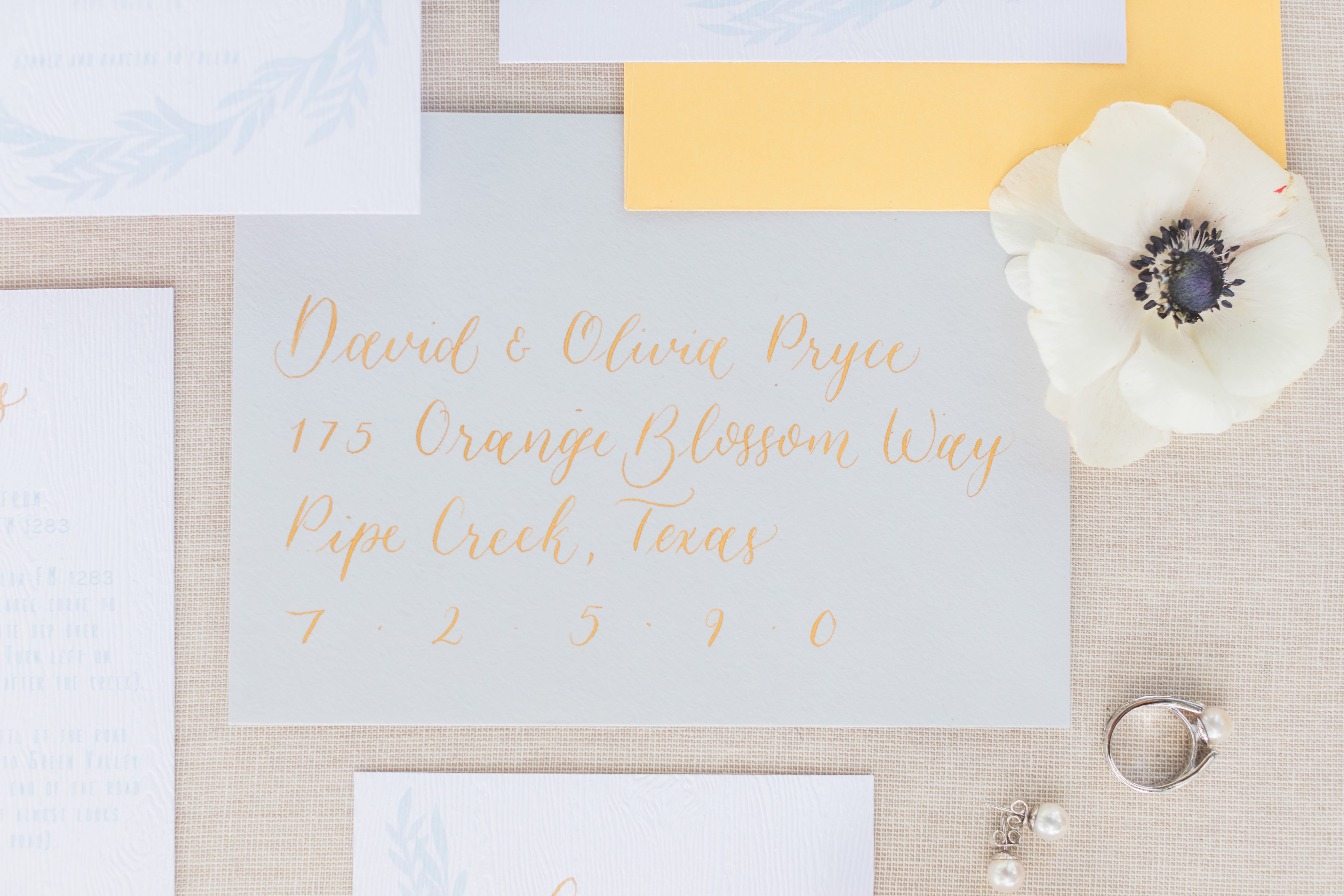 Making It More Informal
Now to make sure we keep to the aesthetic of the wedding. If you are having a laidback wedding, here's how you can make sure the envelope will send the right message to your invitees:
Drop the titles. No Mr. or Mrs. already sends a message you are not too formal on your wedding day. For individuals with titles, out of respect, I always recommend still using the etiquette rules.
Your calligraphy style. You didn't think I would go an entire blog post without the mention of calligraphy, did you? Your chosen calligraphy style says a lot about your vision for your wedding day. Chosing a more whimsical calligraphy style to address your envelopes, rather than traditional, visually helps create an informal tone.
Color. Chosing a fun ink color shows that you want to have fun on your big day! You can also show this in your choice of envelope color, and your stationer can help you picking the right one. For formal invitations I recommend: stick with a black-on-white color scheme, or at least a white envelope.
And that is about it! Now you are fully informed on envelope etiquette and armed to write those envelopes – or you can always tap me in to do it for you!
Charlotte Rosales is a calligrapher and wedding stationer in San Antonio Texas. Her studio, CalliRosa handles everything from custom invitations, to placecards, envelope calligraphy and wedding signs. Charlotte serves the San Antonio, Boerne, Fredericksburg, Spring Branch, New Braunfels, and Texas Hill Country area.
Sources: 
https://emilypost.com/advice/guide-to-addressing-correspondence/
https://www.marthastewartweddings.com/620035/same-sex-couple-wedding-invitation-address-guide
https://www.marthastewartweddings.com/377903/how-to-address-wedding-invitation-envelopes
https://weddinglovely.com/blog/how-to-properly-address-your-wedding-invitations-by-dm-paper-designs/