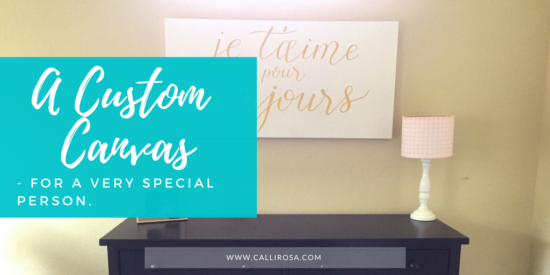 It has been a little while since I have blogged last, it has been crazy busy here! This blog idea has been floating around for a while now, and I wanted to share with you one of my latest projects! This one was very near to my heart – a custom canvas for a very special person!
As a calligrapher, it isn't unusual I get requests for weddings. This is the most important day in those two people's lives, and this is worth investing in. But recently I got a special request from Taylor, asking me to make a canvas for someone very special.
The Initial Contact and Design
Taylor contacted me in January, asking me if I could make her a canvas. She didn't have any luck on Etsy, and was hoping I could help her out. After going back and forth for a while on size options, colors and layout, I sent her a couple of sketches. This is the one we ended up going with: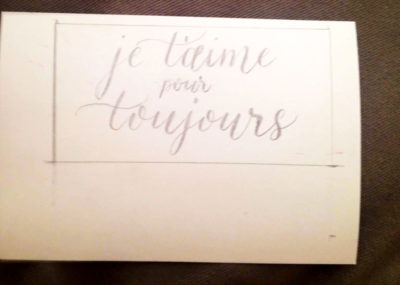 We met up for coffee not too long after that, and I got a chance to hear the story behind this beautiful French phrase: "Je t'aime pour toujours" (which means I always love you). She told me that this canvas was to hang in her daughter's bedroom (she is pregnant with their first baby!). When Taylor and her husband got married, they spend some time in Paris for their honeymoon. This phrase stayed with them throughout their marriage. He would always whisper it in her ear, and everytime she heard him say it, it reminded her of their special time in France. The canvas, she said, was a suprise for her husband, and was meant to symbolically pass this lovely phrase on from her to their unborn child.
The Execution
So I went to work, bought the materials – the canvas, the paint. I sketched out the design on the canvas, and confirmed the final design for the last time: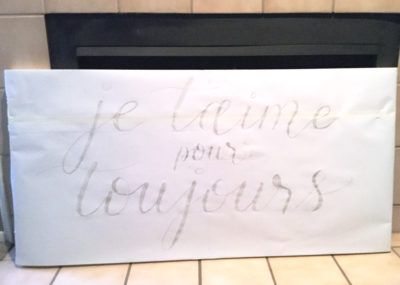 Once I got the ok from Taylor, I transferred the design onto the canvas. After this Istarted painting, turning all those faint gray lines slowly into gold. Once the canvas was ready, Taylor came to pick it up, totally excited about how it had come out! This is the best part about my job, seeing the client really happy with the end result of my efforts! She snapped a couple of pictures for me, so I can show you the end result in the room!
I think it fits so well in the room! The dimensions are completely on point, so I am glad we spent a little more time on that in the design process. I think the sentiment behind this piece is something that will stay with me (and Taylor and her family) for a long time!
By the way, this is the process for most of my canvases – so if you are curious about a design for your wedding or living room, please contact me! To get started,get your quote here! Or – if you'd like to discuss it in person – book your coffee date with me here! I would love to see what I can do for you!