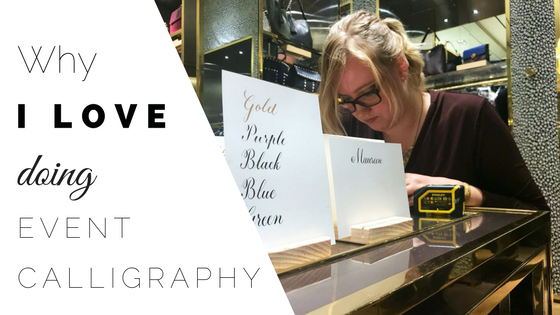 Today I want to talk about one of my favorite things to do as a calligrapher: on-site calligraphy . I will come to a site of your choice, and write pretty things for 3 (or more) of hours, and your guests or customers get to walk away with a beautiful, tangible memento of your event or store. Find out more below.
Last November I had the honor to work as a calligrapher at the Tory Burch store at La Cantera Mall. I was invited through their corporate office, and the whole experience was really amazing. My contact person had pretty much everything ready: a clear idea of what she wanted me to write calligraphy on, the paper type and brand she had ordered, the colors of ink she wanted, the time and date. The entire evening was super fun: I wrote little cards in calligraphy for the women that were shopping at Tory Burch that night. Sometimes they wanted a Christmas card, other times it was a birthday card, or they wanted a quote written that they could put in a photo frame and place somewhere in their home.
So Why Do I Love Doing Event Calligraphy?
1. I love sharing my passion with other people
I am passionate about my craft, and I love sharing it with others! On these events, I actually get to see first hand how my clients react to calligraphy, and usually there are a lot of oohs and aahs while I am writing. From a guest's perspective, you get to sit front and center of a dying art: nobody nowadays seems to write by hand anymore, let alone calligraphy: it creates a buzz, and builds anticipation. There is always a great interaction between me as the calligrapher and the 'audience'. I love giving people something tangible and pretty to take home. This can be as simple as their name written in calligraphy on a card, but the possibilities are really endless! Here are some other ideas for on-site calligraphy: personalized cards, gift tags, notebooks, gift bags, or something completely different! The sky is pretty much the limit.
2. The atmosphere is ALWAYS great.
I have not been to an event where I sat down with my pointed pen and ink and people didn't like what I was doing. People love watching calligraphers work! On-site calligraphy can really lift the atmosphere of an event, it makes it so much more special! Hiring a calligrapher shows your guests that you really value their presence at your event, and makes them feel very appreciated.
3. Guests take away a physical keepsake
How much more valuable is a keepsake that is customized to you specifically? On-site calligraphy gives the amazing option for your guests to take away something tangible from your event, that they are much more likely to save and display in their home? Everytime they see that card or notebook, they will think of your company, how cool is that? Bonus: they will always remember your event! I love providing this for my clients, and for the guests at the event I am at.
When Is On-site Calligraphy Appropriate?
Literally, at any celebration! On-site calligraphy can be done at openings of stores, corporate parties, company celebrations, quinceañeras, anniversaries, retirement parties, even weddings! Any type of celebration can be appropriate to hire a calligrapher, it is pretty much a form of entertainment.
Did you just get curious? Find out more!
You can find out more about me and my services here, here and here. Ready to find out more and start a conversation? Contact me through the button below!
[wc_button type="info" url="https://callirosa.com/contact/" title="Contact me here!" target="blank" url_rel="" icon_left="" icon_right="" position="center" class=""]Contact me here![/wc_button]